I had a request from Rhonda to provide a little more information about the Wheat Ear Cable Yoke Sweater as far as finished measurements for the various sizes, as well as yarns and yardage and possible substitutions. I will do my very best to answer her question and provide you all with the information, but if any of you notice a mistake or have more enlightening information to add to this subject, please feel free to post what you've got! It will be much appreciated!
The 4 sizes listed are: 35 (40, 45, 50) inch finished bust circumference.
Here is a diagram of the other finished dimensions of the sweater that may help you decide which size to make (hopefully the FBI and Interweave won't arrest me in the middle of the night for posting it):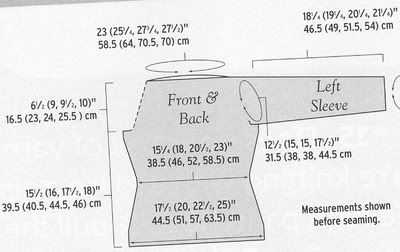 If anyone needs the sleeve circumference measurements, just send me an e-mail and I'll get those to you (I don't usually use Blogger so I had to wrestle with getting the image formatted to fit properly and after about 20 tries and a few not-so-nice words, I settled on this one and called it good!).

The yarn called for is Tahki Torino (100% extra fine merino; 94 yd [86m]/50g): 10 (12, 14, 16) balls. (940 yds, 1128, 1316, 1504) (metric: 860 m, 1032, 1204, 1376).

According to WEBS this yarn is considered worsted weight with a gauge of 4.5 sts = 1" on size 8 needles (metric: 4.5 sts = 2.54 cm on size 5.0 mm needles). So probably any worsted weight yarn would work. I have to admit that I'm not the best at substituting yarns, so if anyone has any great options they'd like to share, I would really appreciate it! Kasia is also the Queen of substituting yarn, so maybe she can do a post to talk about that - I'll ask her :)

Anyway, hope that helps Rhonda, and whomever else may have had questions about the sizing that has not purchased their pattern or yarn yet.

Happy Knitting!